Even though we are almost in May, it sure felt like one of our November mornings!
There's no other way to call it – L1 was a hot (cold?) mess earlier this morning. The official stats came in at a 49F lake temp, a 45F air temp, 15mph sustained winds, and 4-6 foot swells with heavy chops. Lots 'o fun!
Marton, Fred, Jason, and I met out by the swim site and sized up the situation. I opted to go with neoprene on my head, hands, and feet to accompany my swim jammers. Although the lake temp was slightly higher than last week (and actually quite tolerable), these lake conditions require much more energy output while in-swim. So I wanted a little more insulation against the elements as you tend to lose a lot of heat when you're getting buffeted on all sides by unpredictable swells and chops.
As with last week, I jogged down to Oak Street Beach and entered the lake from there. That was arguably the most difficult part of the swim since the waves were crashing quite wickedly at the beach. I made sure not to get in too close to "Hell's Corner," but I still took a pounding during those first 100 meters.
The swim back to L1 was a full body workout with absolutely no possibility of maintaining anything resembling a normal swim rhythm. I ran into Marton and Fred mid-swim at the 1/8 mile point, and they turned around and swam back with me. Those two actually got in almost a full mile since they started out their swim at L1. As for me, a half-mile was more than enough!
A chaotic scene at L1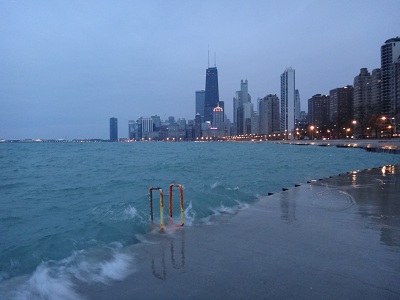 Ducks in the swells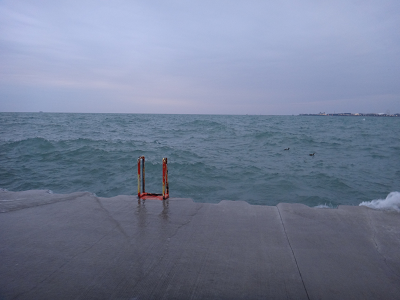 The "November" crowd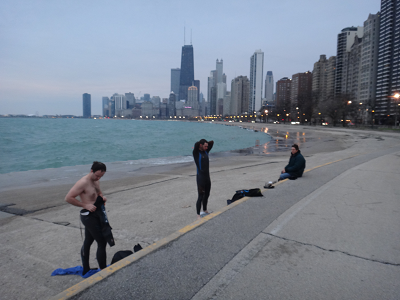 Pre-swim video: