The month of April had a rather ferocious start, essentially plummeting us back into winter for a couple of days. The air temperature was a very brisk 33F at 6:30am, and the cloud cover was more reminiscent of early March. So I wasn't expecting to see much improvement in the lake.
To my surprise, the water temperature reading came in at 46.8F – a significant jump from last week. So given this positive turn of events, I once again ditched the fullsuit in favor of just shorts, boots, gloves, and my hood.
Since I wanted to get a point-to-point 1/2 mile in this setup, I opted for a "dash and splash" – i.e. a 1/2 mile jog to Oak Street Beach followed by a 1/2 mile swim north.
When I reached the beach and began to wade out into the lake, I noticed immediately that the water was WAY more comfortable than the air. And my hands and feet actually warmed up soon after I started swimming. So while I don't think that the lake has turned over yet, I suspect it's going to do so pretty soon.
The lake was very calm – almost flat – so the swim north was quite easy. Plus I was able to get in some bilateral breathing practice since I wasn't having to contend with waves or chops. In short, it was just like swimming in a pool – except that it was almost 40F colder than most pools!
Overall it took almost 20 minutes to get back to L1, and I passed Tim and Fred along the way (they did the whole out and back mile). Once I got out, I changed into my dry clothes right away, packed up my stuff, and briskly walked back to my car.
It was about 10 minutes before I warmed up enough to be able to drive adequately (it's normally not a good idea to drive while shivering uncontrollably). But even with this minor discomfort, we were still able to once again beat the storm and get in a swim while the good weather held out!
L1 at daybreak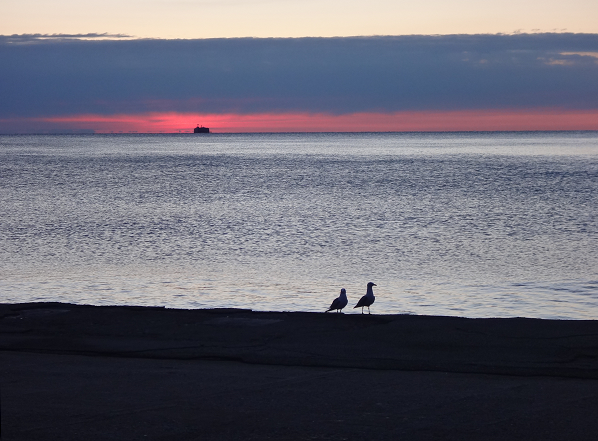 Crescent moon (with bonus seagulls)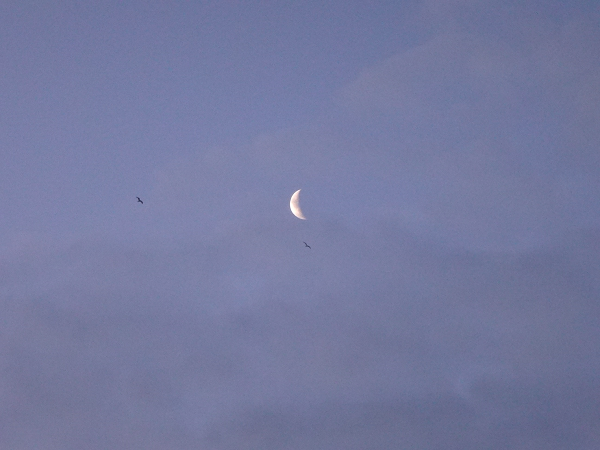 Sunrise sequence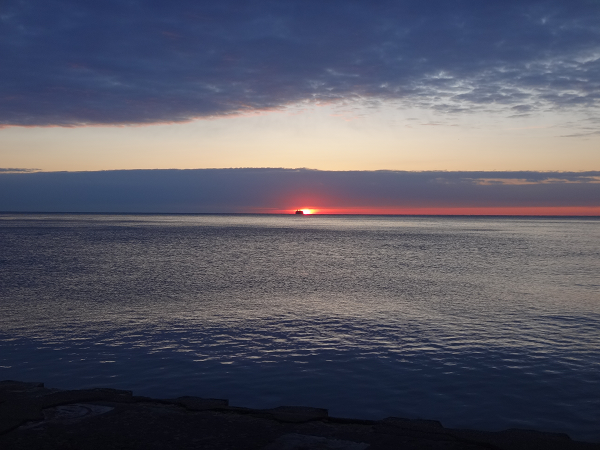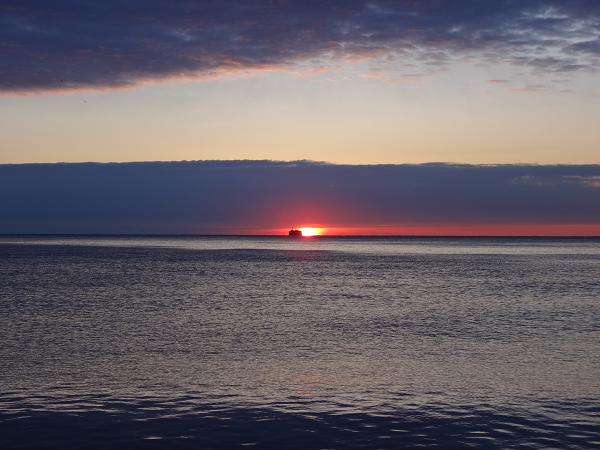 Clear and sunny out at L1!