Swim Report – April 15, 2010 – The Spring Turnover has arrived at Oak Street Beach!
I got a bit of a late start out to the swim site and did not reach Ladder #1 until 9:00am. I took the official lake temperature, and I was elated to see a reading of 50F.  This means that Lake Michigan's Spring Turnover is taking place right now – and the days of sub-40F water are behind us until November!
Another sign of "beach season" – the whole OWC crowd is slowly coming out of hibernation. We had Paul, Bart, and Danny stop by as well as Danielle (sp?), who's visiting Chicago from Amsterdam.  The swimming was fantastic – 52F water temps when I finally left – along with clear water and mirror flat conditions.
Dave in "The Pool"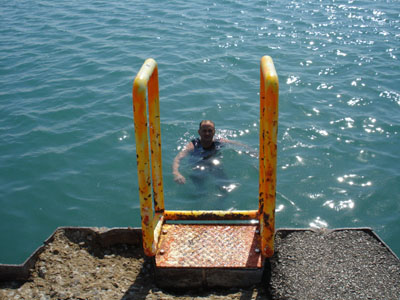 Today's video clip: