Chicago area open water swimmers will have one more Lake Michigan swim option this year thanks to a recently inked partnership between OWC and San Francisco-based Sugob Events!
Dubbed the "OWC/Sugob Crib Crawl," this will be a 2.72 mile point-to-point swim event from the Harrison-Dever water crib to Oak Street Beach. The unique feature of this event will be a ferry boat swim start – similar to the Alcatraz swims conducted in San Francisco Bay.
Swimmers will board the ferry at Navy Pier which will take them out to a launch area just outside of the landmark water crib. Sugob, one of the preeminent organizers of swims in the Bay Area, will provide timing chips for the swimmers which will activate once they exit the boat. From that point, both Sugob and OWC will provide kayak support for all swimmers while they make their way to the swim landing site just south of L1.
Here is the tentative swim route (pending approval by the City of Chicago and the Chicago Park District):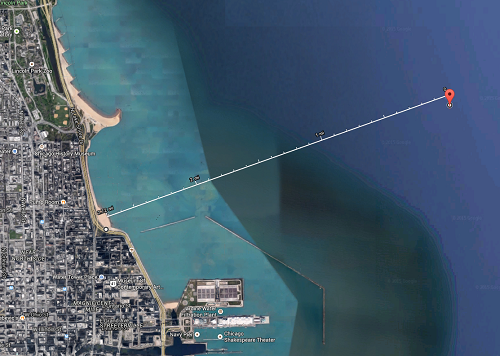 This event is currently scheduled for Saturday July 11, 2015 – so be sure to mark your calendars!
Also, because of the unique challenges inherent with this specific swim route, we are limiting this event to the first 100 qualified swimmers.
In order to be eligible to participate in the OWC/Sugob Crib Crawl, you must be an experienced open water swimmer and you must have a Lake Monster Number – no exceptions.
I will provide you all with more details as we get closer to the event. But for now, please mark the date and be sure to let all your friends know about this inaugural open water swim event – right in our very own back yard!
—————–
UPDATE – April 2, 2015
1) Please note the original date of this post
2) Please also note the semantics of "Sugob" when the lettering is reversed
3) Gotcha!