Right now, there is a thin layer of water on the surface of Lake Michigan that is colder than 39F (4C) and therefore less dense. This thin layer of water floats on top of the lake and under the ice throughout the winter. We've been swimming in this less dense layer of water since November.
However, were we to dive down past 30 feet, we would find the lake temperatures increasing to 39F and remaining at that temperature all the way to the bottom of the lake. This layer is known as the hypolimnion, which is a constant in cold, deep-water lakes. So over the past few months, we've had this scenario: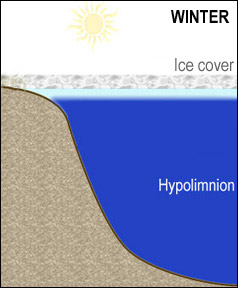 With the arrival of spring, the ice melts off of Lake Michigan and the top layer of water on the lake gets warmed by the increasing levels of sunlight. Once the surface temperature reaches 39F, the surface waters sink until the water temperature at all depths reaches approximately 39F. This sinking, combined with spring winds mixing up the water, causes a phenomenon known as the "spring turnover" which is beginning to take place right now: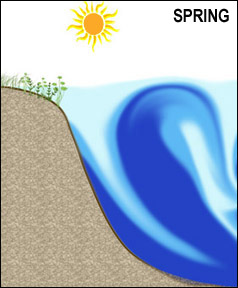 As spring transitions into summer, warmer water collects on the surface and the lake eventually stabilizes into three layers: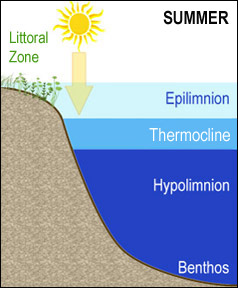 As the summer wanes into fall, the surface temperatures cool and the process reverses itself. We get a similar turnover in the fall, and then we're back in winter mode.
The key point to note here is that the majority of Lake Michigan never really goes above or below 39F. In addition, due to its enormous variability in surface area and depth, Lake Michigan is never really that far from lapsing back into "turnover mode" on both ends of the summer months.
So always be sure to bring a variety of gear with you out to Ladder #1, because you never know what you might get – even in the middle of the summer!