An Open Letter to Chicago's Lakefront Highrise Residents
Dave was out clearing the ice off of Ladder #1 yesterday and took this shot: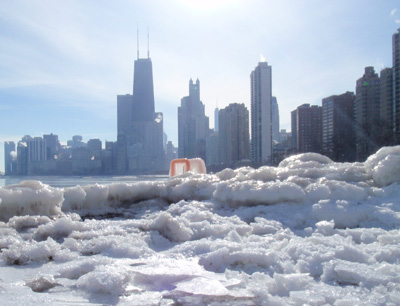 As you can see, the big wave action earlier in the week froze over onto the concrete embankment. In some areas, the ice was over three feet thick and quite hazardous to anyone who might be walking near the lake's edge. Which reminds me…
A few days ago, a Chicago woman was frolicking near the lake at night with her dogs and had an unfortunate accident:
…the outing turned perilous when she and her dogs slipped off an ice-covered break wall into freezing Lake Michigan and were unable to climb out.
Although this incident took place down in Hyde Park, the circumstances are practically identical to those at the lake front area just north of Oak Street Beach. Bottom line, if you fall in anywhere off of the north or east break walls, there is no way for you to get out of the lake unless you swim the 1/2 mile to Oak Street Beach (which I can personally attest is quite a chilly experience this time of year).
This is one of the biggest reasons we hound the Park District every Labor Day to keep as many ladders as possible in place at Oak Street Beach throughout the year.
So if you happen to see one of us out at Ladder #1 clearing off the ice, please note that it's not just so we can have an easy entry and exit to go swimming. It's also to provide a quick exit for anyone who might have the bad luck – or foolishness – to inadvertently fall in.
Because without the proper gear or preparation, you've got about three minutes left on your life clock once you hit the lake this time of year…