If you want more adventure in your life, you need to get up before 6:00am. If you wait until later in the morning, the rest of humanity has already started imposing their structure on the day – and you can easily get caught up in their routines without even being aware of it.
Not so for those of us who brave the uncertainty of daybreak!
The surface water temperature at Ohio Street Beach came in at 62F, but that was right at the edge of the beach. I'd estimate that the average temperature was probably in the 57F range (definitely wetsuit worthy). There were more early risers out at OSB this morning, but we only had a short window of time to get in any swimming.
A nasty storm front rushed in around 7:30am and put on quite a show for those of us who sought shelter in the pedestrian tunnel. As I write this, it's clear and sunny once again. So if you slept in today, I feel sorry for you, because you missed out on nature's fury at its finest.
Yikes!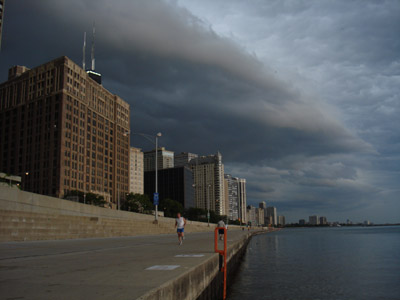 Close encounter with an American Kestrel