At 7:00am on Thanksgiving morning, three intrepid Lake Monsters braved the elements for our inaugural "Thanksgiving Challenge" out-and-back cold water miler. Mother Nature gave us a beautiful morning along with perfectly calm swim conditions out at Ladder #1. The official water temperature came in at a steady 36F, so the three of us suited up right away and plunged into chilly Lake Michigan as if it was the most normal thing in the world to do.
This swim had far fewer complications because we did a much better job of managing the "front end" of the cold water exposure. The hot water in the diving gloves proved to be quite effective in preventing frozen, painful fingers as well as "thawing out" both our hands and feet after the swim. In fact, a good idea for future such swims might be to have someone stationed at Oak Street Beach with a thermos of the stuff to serve as our "pit stop" at the halfway point (a free Lake Monster t-shirt to any volunteer…).
Since I'd had some trouble with my core cooling down rather quickly during last Sunday's swim, I opted to wear a slightly larger 3mm wetsuit over my Ironman Instinct. This proved to be a very wise choice for managing the extreme temperatures, but it also significantly compromised my swim range of motion. As such, I had a much more intense shoulder workout due to the extra resistance that accompanied each swim stroke. It was rather like using cable resistance machines at the gym – only in 36F water.
All three of us completed the out-and-back without any difficulties, and we hung out at Ladder #1 for a while and celebrated both the accomplishment as well as the holiday. A little while later, Dave and I walked down to Oak Street Beach where several of the Chicago lifeguards were carrying out their traditional Thanksgiving day "polar plunge." Now THAT looked cold…!
Thanksgiving skyline
Dave post-swim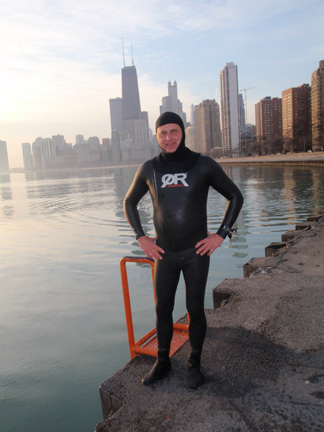 Chris and I post-swim