We got an earlier start this morning in order to avoid the high traffic from the Red Bull Flugtag, which was scheduled to take place at 11:00am. It turned out that our concerns were unwarranted since they called off the event due to the chaotic lake conditions. But that certainly didn't stop us from swimming!
Just after 6:00am, a group of about twelve of us gathered together at L1 and fought off the chill from a steady wind and a 54F air temperature. Given these conditions, we were not expecting the lake to be very welcoming. However, when I checked up on the thermometer, it came back with a blazing reading of just under 74F. So we quickly donned our swim gear and got into the lake to warm up.
Throughout the swim, we had to navigate some high volume swells that crested at 3 to 4 feet – but occasionally higher. We stayed away from the wall and veered towards the middle of Oak Street Beach in order to avoid the full force of the breaking waves. The return part of the swim was definitely more challenging. Not only were we swimming into the southeast bound swells, but the "richocet" waves were constantly pushing us farther out into the lake as well.
Nevertheless, we made it back intact and were greeted by a vigorous sunrise that had been obscured by the clouds at the start of our swim. And that alone was worth the trip out to L1!
An ominous lake
Litza, Lake Monster 210 (congrats!)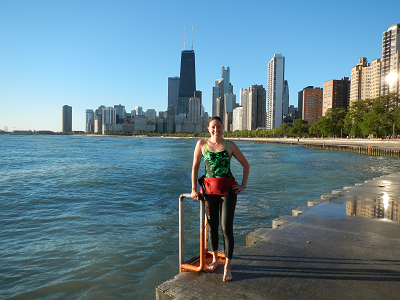 Two birds with one click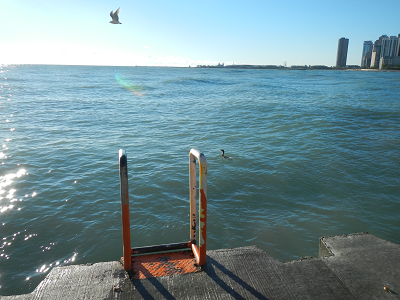 Nessie takes a dive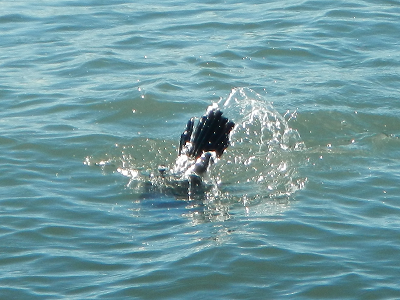 Hell's Corner
Video of the beach