If you've ever been bored swimming out in the lake, today would have cured that…
Six of us met up at 8:00am out by L1, and the lake was a chaotic mess. A steady and intensifying northeast wind gave us 4 to 6 foot waves that sloshed against the wall and made the swim area a barely navigable mess. But Lady Luck blessed us with plenty of sunshine and a surprisingly balmy 63F water temperature. So we geared up and got in before we could change our minds.
Ines, Mike, and Nick made it to the beach first with Joe continuing on towards the Ohio Street Beach curve. Kaley and I veered away from the wall on the final stretch and hit the beach – literally – as a rogue wave pummeled us a few feet from the shore. And speaking candidly, there are very few swim experiences as harrowing as being ambushed by several thousand gallons of unforgiving Lake Michigan water.
After catching my breath at the beach, I opted to walk back for most of the way and get in again around the 1/8 mile mark. And I'm glad I did since the wind picked up and the waves became much larger during the return swim.
In short, today's swim was certainly one of the most challenging and exhausting ones of the year. September closed out like a lion and gave us her full fury on this last morning of the month. But even though we didn't set any records for speed or technique, the six of us were more than willing to give it a shot. And we all went away with a memory of yet another high adventure out at the lake.
Pre-swim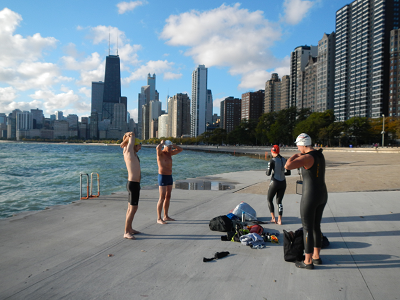 Nick and Mike in the chops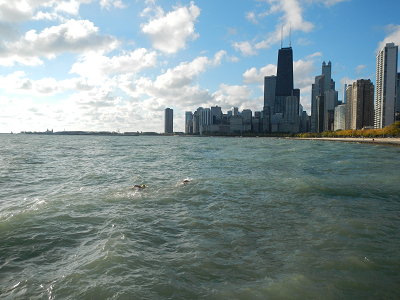 Group shot at Oak Street Beach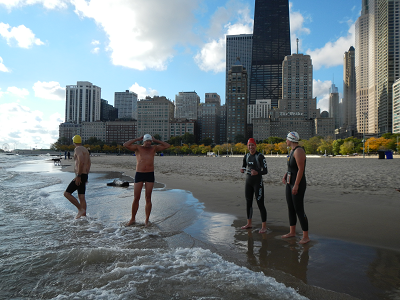 View of the swim area looking north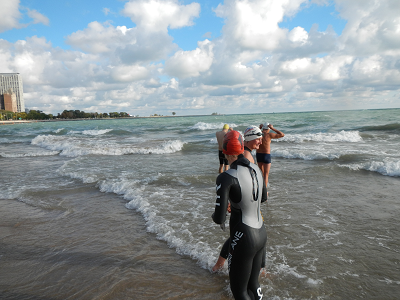 Navigating the waves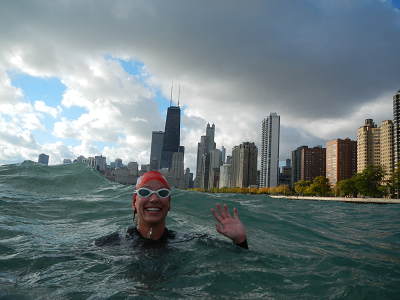 Kaley, Lake Monster 213 (congrats!)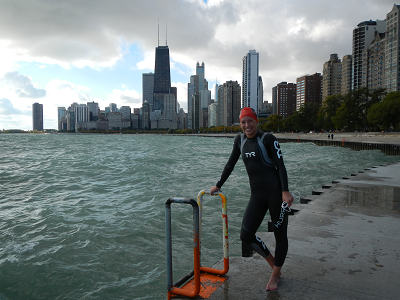 Video at the beach