I must say, after last night it certainly felt great to sleep in until 5:30am today…
I arrived at L1 at 6:50am, and Denys and Nick were already at L1, transfixed on the horizon. Nick pointed out a waterspout on the lake about as far out as the water crib. Over the next few minutes, several ones formed out on Lake Michigan (luckily nowhere near the lakefront!). You should not have slept in!
The official lake temperature came in at 62F with the air temperature at a crisp 51F. We had overcast skies and a slight breeze, but the swim area was relatively calm until we hit Oak Street Beach.
The return swim back to L1 was quite a challenge. The wind had picked up, and we had some swells coming in from the northwest. So we had to swim into a current which was diverting us out to the buoys. But despite this extra workout, we all had a great time out at "the pool."
See you in October!
Early birds at L1
Waterspout!
Lake Monsters post-swim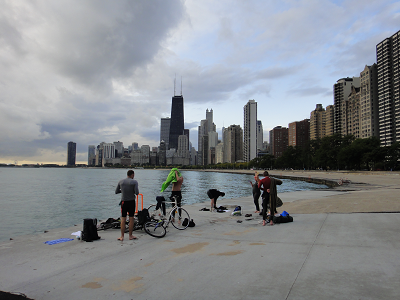 Sabrina, Lake Monster #155 (congrats!)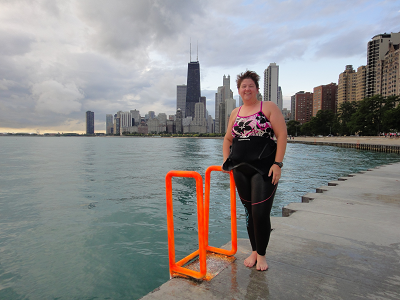 Traci, Lake Monster #156 (congrats!)
Another look at the post-swim show
This morning's video