The forecast called for overcast skies with an 80% chance of rain. Given the low probability of catching the sunrise, I bumped up the start time to 7:30am. This seemed to go over well with everyone (myself included) since it takes a tad bit more effort rousing oneself from a warm slumber this time of year.
Nick, Mike, and I met out at L1 and had pretty ideal swim conditions – apart from the colder water, that is. My frugality turned out to be a liability this time as my cheap Home Depot thermometer was no longer working. Or if it was, the water temperature was 20F – not very likely.
As it was, we estimated the lake temperature to be around 55F. At most. In the absence of sunlight, I opted for the thermo shirt and neoprene swim cap. I also used silicone earplugs for the first time which made a huge difference in overall comfort level in the bracing water.
It was a fairly textbook out-and-back to the beach with constant drifting back and forth into the "chill zone," that tranquil, slow motion state where you're simultaneously exerting yourself while being profoundly relaxed. You should try it out!
"The Pool" in late October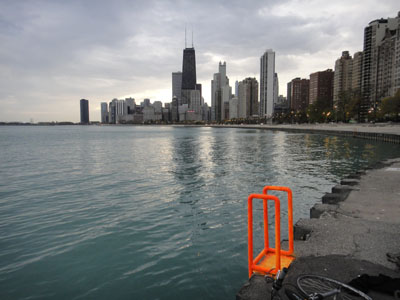 The true reason that the rest of you couldn't come out this morning: