There was a lot of activity on the lakefront this morning – for both good and bad reasons. On the good side, they were setting up the polo field at North Avenue Beach for the first ever outdoor polo event there. On the not so good side, the Coast Guard was patrolling the Oak Street Beach area to recover the body of a person who had apparently drowned out by the curve last night.
There's never a dull moment at L1…
A rather sizable group of swimmers showed up on a very crisp October morning and was greeted by a stunning sunrise courtesy of Ma Nature. This same lady, however, also gave us a 45F air temperature with the lake coming in at a crisp 55F. The waves had diminished considerably since yesterday, but there were still some 3-5 foot high volume swells that made things quite a challenge at times.
I opted to go sans wetsuit, but I wore a neoprene cap as well as a silicon cap on top of it. This, along with the abundant sunshine, took the edge off of the colder water.
Fortunately, everyone got in their swim without any difficulties, and none of us ran into the missing person (thank goodness). But we had a chat with a police officer before the swim, and we were all prepared to flag them down should any of us make the unpleasant discovery.
The lake is dangerous, folks, and Ma Nature can be a real harsh disciplinarian…
P.S. Congrats to new Lake Monsters Chris (#157) and Greg (#158)!
Sunrise from the pedestrian bridge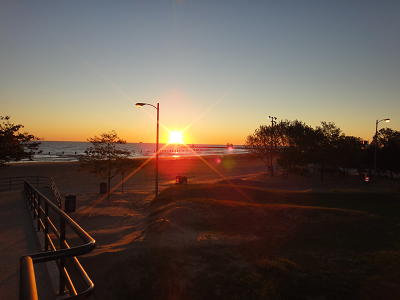 Coast guard chopper scanning the swim area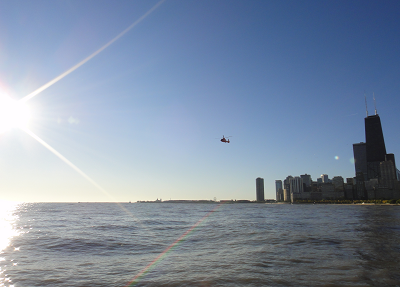 Today's video compilation