Dave, Nick, Jenni, and I made it out to a partially intact L1 just before sunrise at 5:45am. The Park District had been quite busy over the past week patching up all the holes in the area around L1 that the winter lake had opened up. And this time, instead of asphalt, they brought out the heavy machinery and poured concrete over everything.
Great news…but one of the machines must have unfortunately backed into L1 during the construction. So now our precious L1 is in multiple pieces and will most likely be replaced by one of the newer safety ladders they've been installing farther north. While we won't miss much in the way of functionality, we may not be able to do acrobatic dives off of the new ladder once it's installed.
And perhaps that might be a good thing…
The air temperature came in at 62F, which turned out to be the warmest temperature of the day. And the out-and-back to the beach went exceptionally well in the calm waters. I opted to go with a fullsuit along with a neoprene cap, neoprene foot covers, and light gloves, and I was quite comfortable.
The abundant sunshine made the 48F water feel much warmer, and it had intensified quite a bit by the time we returned to L1. So I ended up spending another 15 minutes back in the lake enjoying the brisk waters – this time just wearing my swim jammers.
Miranda and Mitch made an appearance and interviewed several of the L1 regulars for their radio journalism project at Northwestern University. Afterwards, both of them braved the chilly spring lake and earned their much-coveted Lake Monster numbers!
All in all, another perfect spring day out at L1. And yes, you should have been there!
Sunrise swimmers by a broken L1 (L 3/4?)
Dave taking off to the beach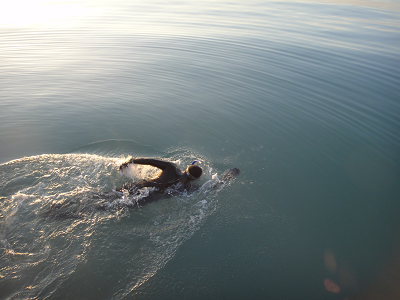 Mitch, Lake Monster #95 (congrats!)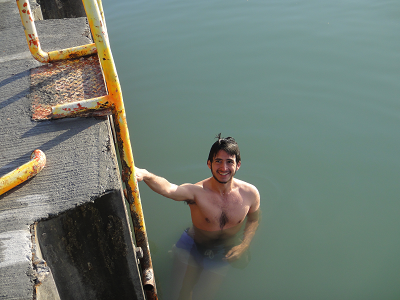 Miranda, Lake Monster #96 (congrats!)

This morning's video!