Sunny skies and 30F air temperatures greeted us at 8:00am down at the ole' swimming spot. The lake came in at a surprisingly balmy 39F, but there were some high volume chops and whitecaps thrashing around in the swim area.
Nick and I spent some time at L1 deliberating whether or not to brave these chops, but a rogue wave abruptly came by and soaked us completely. Already drenched, we decided to suit up and give it a shot. We were glad we did!
We hopped in the drink and fought our way through the chaos for a vigorous 1/2 mile out-and-back swim. Other than the occasional yucky swallow of murky lake water, we didn't have any problems during the swim. We did, of course, get some strange looks from several of the early morning runners – but we're used to that by now.
Turbulent swim area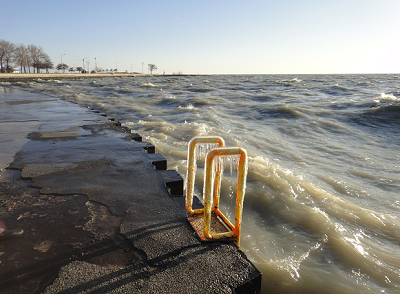 Pre-swim video