Swim Report – June 5, 2011 – Diamond Lake Open Water Challenge
I'm always on the lookout for new cool swim spot. So I was elated when Craig Strong over at Precision Multisport sent me a note with details about his Diamond Lake Open Water Challenge.
This year's DLOC was bumped up to June from September, which was really great since it's an excellent late Spring event for anyone training for a big swim or triathlon later on in the summer. Plus, you can't beat the swim venue.
The swim takes place in Diamond Lake located just outside Cassopolis, MI. The starting point is on Diamond Island, which you can only access by taking a free, leisurely barge ride. Once you reach the private island, you just walk a short distance down to the lake front house that hosts the event.
You can choose three different distances – 2.5K, 5K, and 10K. The 2.5K event is an out-and-back to the mainland with the 5K and 10K events consisting of 2 and 4 loops respectively. If you want to do the longer distances, you have to get there earlier. Being on vacation and in sloth mode, I opted for the 2.5K distance with the 11:00am start time…
Diamond Lake is a spring fed lake that's quite cleverly hidden away among the surrounding farmland. It is surprisingly clean for an inland lake with a mostly sandy bottom that is around 40-50 feet deep at its lowest point. Plus, from what I understand, it doesn't get too mobbed by crowds other than during the holidays.
The water temperature came in at an ideal 70F, and I was very comfortable in just my swim jammers during my 54 minutes in the water. We had a perfect day as well – 80F air temperature with lots of sunshine (and some pretty awesome post-swim roasted chicken!).
In some ways, this event reminded me somewhat of the Bayfield Point to LaPointe swim which I first swam in and reviewed back in 2008. I had such a good time there that I was a bit hesitant to write about it.
But I can't be selfish about these things, so I'm letting you in on a really cool swimming hole that's not too far from Chicago. Be sure to check it out next year once it comes around again.
Just make sure you can keep a secret…
On the barge to the island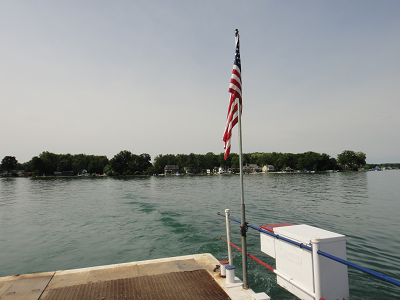 Swim course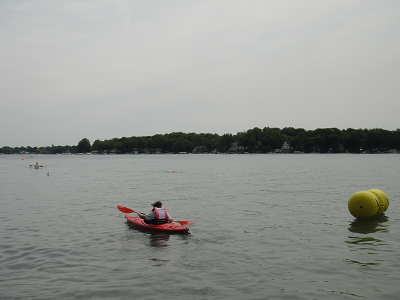 Awards Ceremony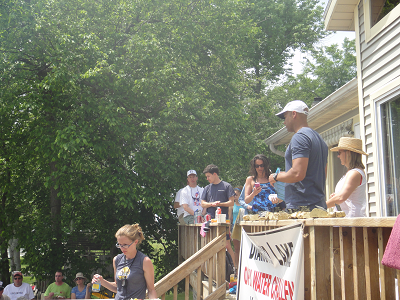 Pool toys we could use at L1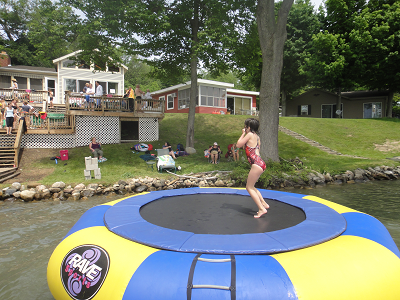 Hobi!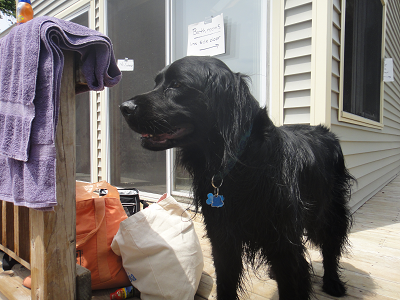 DLOC video