Swim Report – June 23, 2012 – Edge of the Solstice
Before all else, big kudos to Nick. Right before we started the swim, we noticed a distressed swimmer at Ladder 3. Some inebriated young fellow had fallen in and had assumed the classic "active drowning" position in the 58F lake. I grabbed my rescue buoy and we both sprinted over. Nick jumped in while I fed him the buoy, and he put the rescue hold on the swimmer while I jumped in to assist. Thanks to this quick action, we were able to get this fellow to the ladder and out of the water.
I monitored him for a few minutes for hypothermia, but the only ailment he had was a severe case of brown bottle fever. Bottom line, this young man had maybe 30 seconds left before he became yet another statistic of Lake Michigan. He was lucky we were out there, and he was damn lucky Nick acted quickly and without hesitation.
Kind of a dramatic way to start out the day, but when a drowning takes place, it happens very quickly and you really don't have time to think. Great job, Nick. You definitely have the "right stuff!"
Apart from the pre-swim drama, we had an almost perfect morning. I say "almost" because the lake had some slight swells that proved to be a minor challenge at times. But the sunrise was spectacular, and it really took the edge off of the 58F – 60F lake temperature. Plus we had a great crowd out, and everyone had a ton of fun. So you definitely missed out (again)!
Pre-sunrise swimmers
El Sol makes its appearance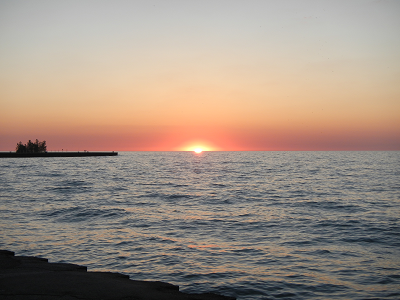 Getting ready for the big plunge!
Early morning beach revelers
Holly and Yuri, Lake Monsters 175 and 176 respectively
Travis, Lake Monster 177
Today's video: