Swim Report – July 4, 2008 – Happy Independence Day!
Happy 4th of July!
All efforts at making this a grim and serious meetup were met with strong resistance and ultimately proved to be futile…
It was a fantastic morning overall, and Orange Ladder North was bursting with positive energy. All of the usual suspects showed up as well as a number of way-cool new swimmers who officially became Lake Monsters. The water temperature came in at a balmy 64F which was warm enough (for the most part) to go sans wetsuit.
I managed to discipline myself to get a real swim workout in, but there was a lot of playing around, too. I showed the Ochoa children how to execute the perfect "can opener" (which, if done correctly, can displace large amounts of water onto unsuspecting sunbathers). Hopefully, they will pass along this sage wisdom to future generations of lake swimmers…
The author horsing around (as usual)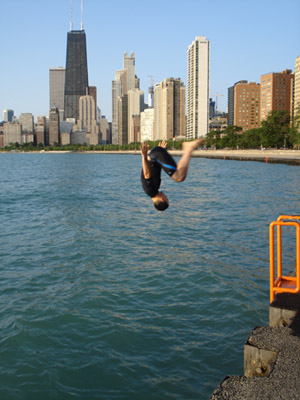 Amber – Lake Monster #5 (congrats!)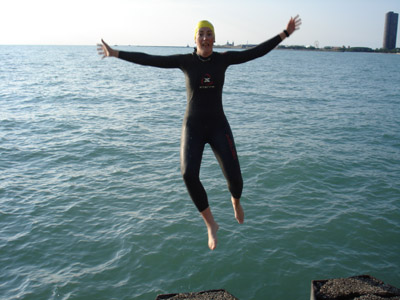 Amanda (left) and Natalie (right) – Lake Monster #6 and Lake Monster #7 respectively (Congrats!!)