Without a doubt, today was the most perfect day for swimming we've had yet. The water temperature came in at an idyllic 72F, and the combination of calm waters plus lots of sunshine made for an active pool party at Orange Ladder North.
Wetsuits were definitely optional, but I chose to swim with mine as I'm preparing for the Point to LaPointe Swim taking place in two weeks up in Bayfield, Wisconsin. I did the race distance (two miles) at a fairly brisk clip and was completely wiped out for the rest of the day.
On an unrelated note, I hope many of you checked out the Chicago Criterium bike race today. It was pretty cool!
Sunrise in paradise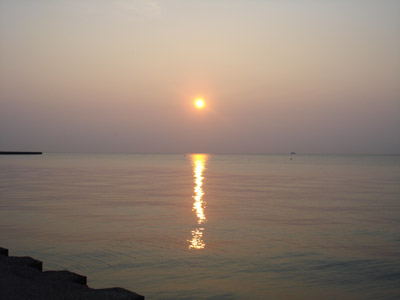 Early bird swimmer Karen, Lake Monster #9 (congrats!)