The good news is that we had a great turnout -14 swimmers with more showing up later. Plus, we had a 66F lake with a magnificent sunrise.
The bad news is that I lost my camera after the swim when I was horsing around in the vicinity of L1…
So, unfortunately, I do not have any pictures or video clips from this morning! However, here's a sunrise from two years ago that's somewhat comparable to what we had today: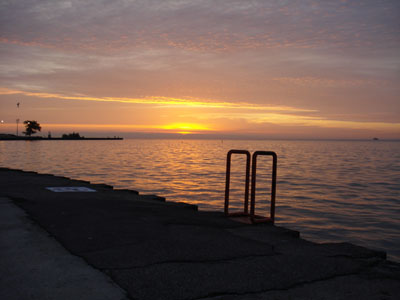 So if any of you are out at L1 and happen to find my camera, let me know!
I AM OFFERING A REWARD FOR ITS RETURN!
It's somewhere in the area approximately 50 yards off of L1 – pretty much a straight shot east about halfway to the buoy. It's a silver Sony Cybershot that's waterproof – so it should still be functional.
Any help you can provide would be greatly appreciated. Thanks!