The forecast called for higher than normal air temps but possible 18mph southwest winds. So we ix-nayed the Montrose South Wall and met at Tower Beach, which is a bit more protected. It turns out we could have gone to Montrose since the lake was mostly calm for as far as the eye could see!
Mike, Nick, and I suited up in the 53F parking lot, and it didn't seem like mid-January at all. We didn't take an official lake temperature, but my estimate was around 37F – definitely warmer than normal.
Those two darted out ahead of me and did just over a mile. I did about 2/3 mile total at a much slower pace. I've been testing out some new equipment (hood, booties, gloves) and so far the new setup is working great. The only issue I have had was with my fingertips getting a bit numb on the return part of the swim. Mike and I had poured some hot water in our gloves to stave off the cold hands as much as possible. And for the most part, this worked very well. But these gloves are a bit thinner than the ones I've used in the past.
So we're still searching for the very-elusive perfect winter swimming glove! [strong hint to all you neoprene glove manufracturers]
When we came back to the beach, there was a police car in the parking lot. We were a bit disheartened by the prospect of a run in with John Law. But fortunately for us, Nick's wife had explained to the officer that we were regular winter swimmers and that we weren't in any danger. You've got a real gem there, Nick!
Sunrise
Perfect conditions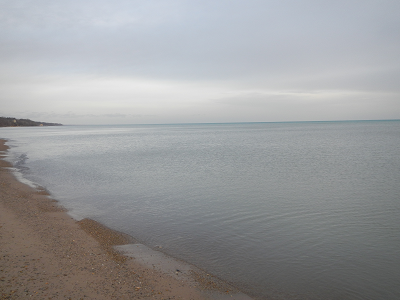 At the swim start
Photo evidence of the elusive Lake Monster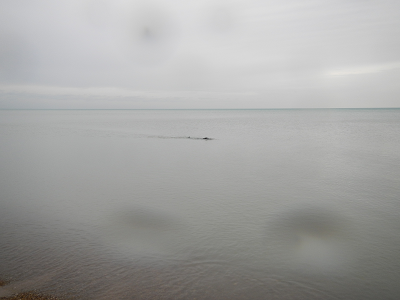 Post-swim video