Swim Report – December 31, 2011 – Last swim of the year!
We sure lucked out this morning. The wind forecast called for up to 10mph gusts, but the lake was quite calm out at the south wall. The lake temp came in at 35F with the air measuring a balmy 31F. Plus, we had a fantastic sunrise that helped warm things up in the water.
Nick, Dave, Mike, and I did and out-and-back to the lighthouse, and the only challenges we ran into were some cold fingertips during the last half of the swim. But the neoprene held out, and we were otherwise quite comfortable in the lake.
Skyline from the south wall
Nick, Mike, and I pre-swim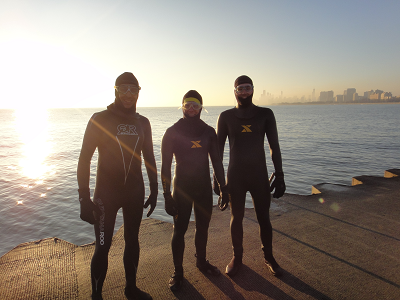 Accidental self-portrait
Dave and Mike post-swim
Today's video: