As Nick and I made our way southbound on Lake Shore Drive at around 8:20am, we were not expecting the lake to be swimmable. As far as we could see, the lake was completely iced over. So Nick pulled into the cul-de-sac right outside of the NAB parking lot, and I did a quick jog out to L1 to check out the swim site.
And we sure lucked out! A light west wind had already begun to push the layer of ice out away from the wall. So we had about 1/8 mile in each direction for relatively unencumbered swimming.
We plunged into the chilly waters and swam to the north wall before heading south. We made it as far as the 1/8 mile mark (from L1) before encountering an impenetrable ice layer. So we reversed course and did another back-and-forth lap to the north wall.
All in all, we did about 1/2 mile total. Fortunately, the lake was very calm – unlike last week. And the relatively abundant sunshine took the edge off of the 32F water temperature and 14F air temperature (a little bit).
After we finished our swim and thawed out in the heated car, we did some exploring along the lakefront and checked out the after effects of last week's heavy wave bombardment. Below are a few shots…more images and video to follow!
Frigid skyline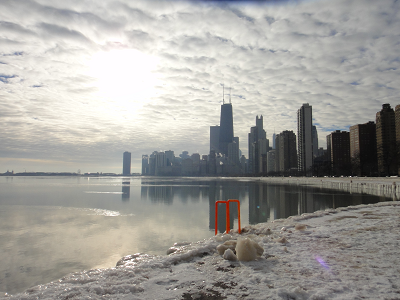 A marble sculptured Ladder #2
A menacing lighthouse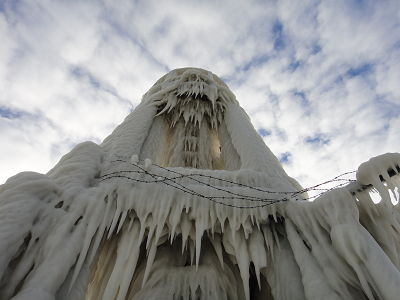 An even more menacing lighthouse ceiling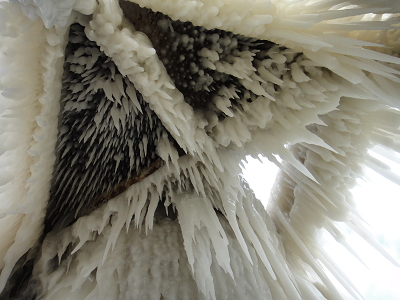 Looking out at the water crib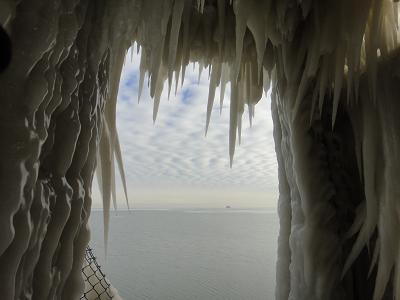 Nick in the pool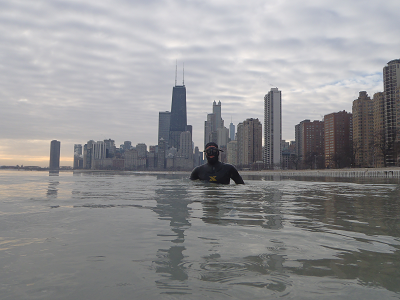 Me on ice
Assorted video footage