Winter officially arrives in four days, so we thought we'd get in one last autumn swim before the solstice – and we're really glad we did!
The lake temperature came in at a crisp 35F – 38F according to the readings on two separate thermometers. However, the lake – while certainly bracing – was actually quite tolerable throughout the swim. This definitely matched our perception of the air temperature as well. We had estimated that to be in the 37F range. But according to the Weather Network, it was much closer to 32F!
In retrospect, it's quite obvious why we overestimated both. The clear morning skies and abundant sunshine had a definite warming effect on the neoprene. Plus, we had very calm waters and no wind whatsoever – which was quite a contrast from last week! So if you were ever curious enough to give cold water swimming a shot, this would have been the ideal day to try it out!
Sunrise at MSW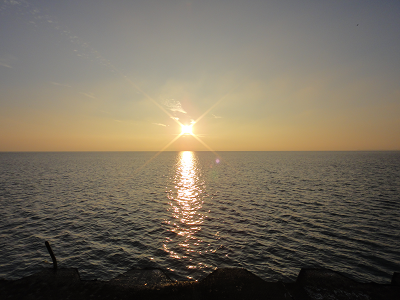 Dave at the halfway point
Today's video!