Five of us met out at L1 yesterday morning and took on a very tempestuous lake. While not as bad as a few weeks ago, Lake Michigan still had some high volume rollers at 5:40am. The only saving grace was the water temperature.
Much to my delight, the surface temperature came in at 45.5F – a significant jump from last weekend. And given the agitated state of the lake, I was very confident that this temperature level was uniform.
The swim start, while a bit of a shock, was nowhere near that of previous weeks. Even with the 4-6 foot swells, the lake was much more comfortable than the 38F air temperature. The only real difficulty was navigating the southbound current which the sustained 10mph wind had created.
Then first half of the swim was only slightly challenging as there was a definite rhythm to the swells, and we were swimming with the current. The way back, though, was a real bear!
By the time we turned around at the 1/4 mile point, the swells had intensified – or perhaps that was just our perception now that we had to swim directly into them! Either way, it was a long hard slog back to L1, and I was more than a little spent by the time I climbed out.
The Wicked Wind from the North harangued us the entire time while we were switching out of our swim gear, so out post-swim shivers were a bit more strenuous. But we all met at the Cool Starbucks on Clark street where several large cups of scalding hot coffee helped keep Mr. Afterdrop at bay (mostly).
All in all, a great way to ring in my 51st year on this rock!
L1 at dawn
Sunrise!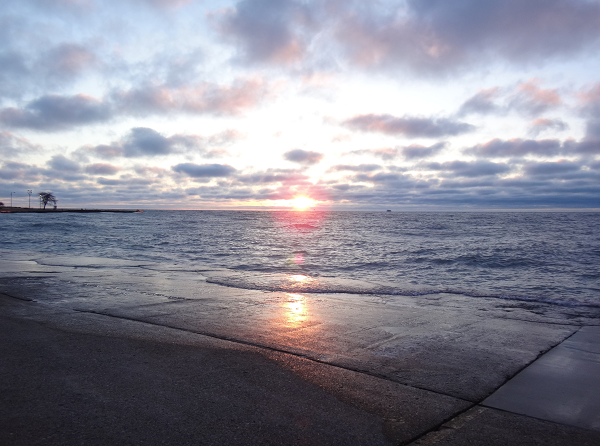 Gearing up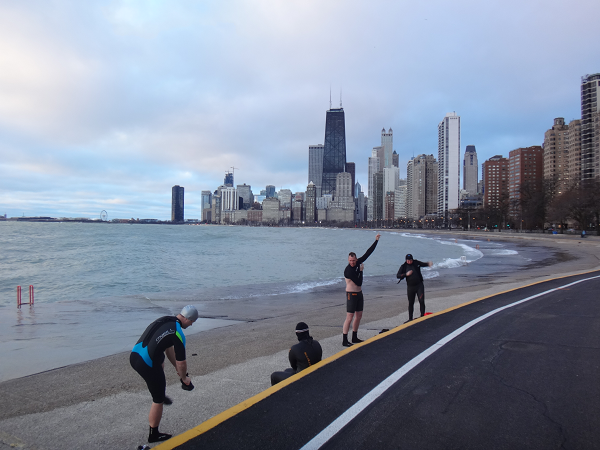 The intrepid late April crew