Swim Report – April 24, 2010 – Another new Lake Monster takes on turbulent Lake Michigan!
Taking advantage of a mid-spring "heat wave," I biked out to Ladder #1 to get in a weekend swim before the air temperature dropped below 50F. At 7:00am, the outside mercury read 52F with the lake coming in at 50F.
New Lake Monster Liz showed up, and we did a 1.2 mile swim to the beach and back to the north wall. It wasn't as chaotic as last week, but we still got buffeted around quite a bit in the "washing machine." The spring turnover has definitely arrived, though, as the lake is quite tolerable to swim in!
Liz, Lake Monster #38 (congrats!)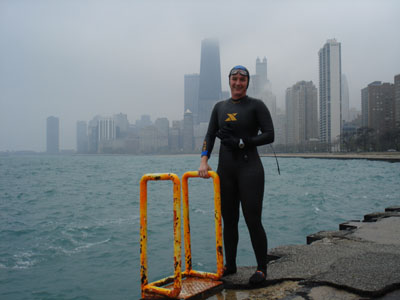 Today's video report: