Back in May 2009, my 5-year-old Ironman Instinct finally ended its useful life for my purposes. So I went to a number of Chicago-area multi sports stores and tried out a variety of brands including Zoot, BlueSeventy, and Orca. While they all looked great and had some really neat features, none of them seemed like much of a departure from my Instinct.
As chance would dictate, I received an email ad from Xterra Wetsuits about their Spring 2009 special on their Vortex 3 and Vector models. I had seen Xterra's wetsuits at a number of triathlons and swim events, but I had never had an opportunity to try one out. This is because the company has a direct order business model that doesn't use distributors. So the only way to get one is to order directly from Xterra or to visit their factory outlet store near their San Diego, CA headquarters.
Given an attractive price point ($199), I decided to give the Vortex 3 a shot.
Appearance and Fit
I ordered the fullsuit version of the Vortex 3 directly from Xterra's website. The company shipped out the product the same day, and it arrived four days later. Also included in the package was an Xterra mesh wetsuit/swim bag and an Xterra latex swim cap – both unexpected surprises.
As you can see, it's a pretty sharp looking wetsuit: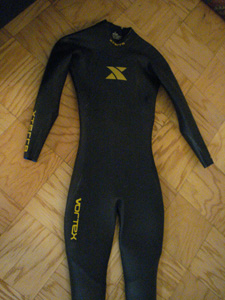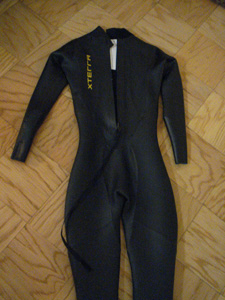 Probably the most significant visible feature of the Vortex 3 is the 5mm layer of neoprene that extends from the neck to the ankles on the front side of the wetsuit. This maximizes swim buoyancy – especially in your lower extremities. The 5mm (versus the 3mm-4mm used by other companies) really made a difference for me as my lower legs tend to sink and drag if I'm not swimming at a fairly brisk pace.
This thicker layer also provides a high degree of insulation against colder water temperatures. In fact, I delayed writing this review until I could test the Vortex 3 in our winter swim conditions. And I am happy to report that the wetsuit provides very adequate thermal insulation even when the water temperatures fall below 40F (4.4C).
But my favorite feature is undoubtedly the fully-body X-tra Stretch Liner: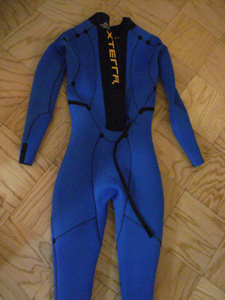 This highly flexible inner liner covers the entire inside of the wetsuit. Not only does the X-tra Stretch Liner provide excellent flexibility and range of motion, but it also makes the Vortex 3 very easy to get on and off.
Performance
As mentioned earlier, I recently field-tested the Vortex 3 in icy Lake Michigan, and I was very pleased with how the product held up under these extreme conditions. I wore it over my thermo shirt and neoprene dive hood, and the wetsuit provided plenty of insulation without causing constriction around my neck or letting in excess cold water. I also had a full range of swim motion in my arms and shoulders despite this rather snug set up.
During my numerous training and event swims in 2009, the Vortex 3 performed exceptionally well in terms of buoyancy, swim ability, and thermal protection. There are, however, a few minor issues I had with the Vortex 3 that definitely warrant mentioning.
First of all, given Xterra's direct sales model, you can't really try on a Vortex 3 before you purchase it. You have to rely on the detailed sizing chart on their website and hope that you choose the right size. I was actually on the border between two sizes, so I chose the larger one. This proved to be a mistake, and I had to go through the return/exchange process to get my correct size.
Second, the Vortex 3 fullsuit is a very well-insulated wetsuit that retains a LOT of heat. And while this is highly desirable in colder water conditions, I could see this becoming a problem during longer swims in warmer water temperatures. In fact, there were a couple of times that I interrupted my swim to take off my Vortex 3 as I was feeling somewhat overheated.
My final critique of the suit involves its outer lining. For some reason, it seems more vulnerable to fingernail gouge marks than other wetsuits I have used. So you have to be extra careful putting it on or you'll easily end up with one of these: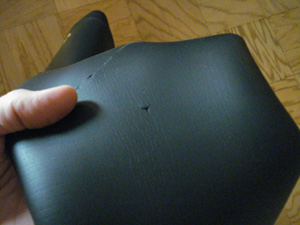 The Bottom Line
Overall, I am very pleased with the quality, fit, and performance of the Xterra Vortex 3 fullsuit. I think it's a great all-around wetsuit that you can use for both training and competing. It's priced at $400 on their web site, but the company occasionally runs time-limited promotions where they offer the wetsuit at a 50% discount.
So if you're in the market for a new wetsuit and feel comfortable with ordering one directly from the manufacturer, I highly suggest you check out what Xterra has to offer. You'll get a really high quality wetsuit for a price significantly lower than that of a comparable – or even lower quality – wetsuit at a local retail outlet.
___________________________________________________________
** UPDATE – 5/5/10 **
I have to be honest here. This wetsuit has not lived up to my expectations since writing this review in January 2010. It turns out that the suit is much more vulnerable to rips and tears than I expected. In fact, despite being very meticulous in putting the wetsuit on and applying copious amounts of Suit Juice during the process, I still somehow managed to develop very frustrating rips and rents in numerous places.
And let me tell you something, folks. It is NOT pleasant to have cold water rush in through rips located near some of the more, er, "delicate" areas of the human anatomy.
Here are a few pics showing the rips and the repair jobs I had to do (I used both Black Magic and Aquaseal)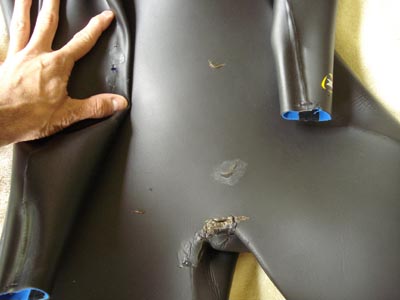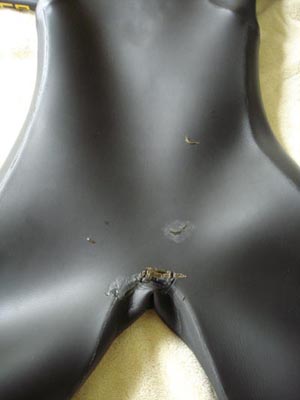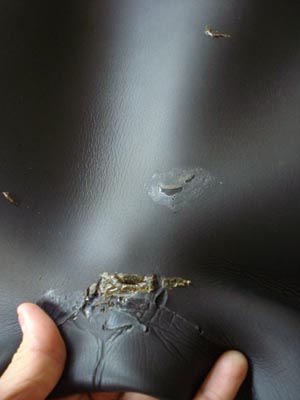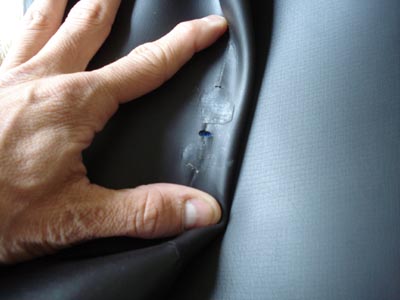 I don't have long fingernails, so that's not the issue here. I think that the wetsuit just has a shorter shelf life – especially when exposed to more extreme temperatures. And once it reaches a certain point, it just starts to deteriorate where it's thinner (forearms) and where you place the most stress putting it on (legs and crotch).
So I cannot, at this point, strongly endorse this product.
** UPDATE – 5/25/10 **
Many of you have read this review, and a few of you have contacted me directly about it. Let me just clarify a few things.
First, I purchased this wetsuit in May 2009, and it did perform quite well for an entire year. I deliberately waited until January 2010 because I wanted to see how the suit performed under extreme cold water swimming conditions. And as I had originally reported, the Vortex 3 did indeed perform quite well even under the most extreme swim conditions.
My primary issue with my Vortex 3 was that the softer outer neoprene layer seemed to be much more prone to tearing after having to endure three months of sub-40F water temperature exposure. And to be fair to Xterra – these are not typical swim conditions that most triathletes practice in or face on race days.
One other FYI – when I informed Xterra recently of this issue, they immediately sent me another Vortex 3 as a replacement. So while I may have had some frustrations with my Vortex 3, this doesn't necessarily imply that you will have the same experience. And even if you do, Xterra has definitely demonstrated that they are willing to go above and beyond to make their customers happy.
I hope this further clarifies everything for everyone. If anyone has any other questions, feel free to send me a quick note at srhernan [at] gmail [dot] com. Thanks!