Brown Fat Revisited – Beyond the Media Hype
Let's start off with a sampling of headlines that hit the mainstream media news sources over the last two weeks:
"Can Brown Fat Make You Thin?"
"Can Brown Fat Make You Lose Weight?"
"Activating Brown Fat Could be the Key to Weight Loss"
"A New Diet Plan? Brown Fat and Cold Temperatures"
"Fighting Fat with 'Brown Fat?'"
"Safely Burn Away Body Fat"
"At Last! Lose Stomach Fat Fast and Get Rid of That Stubborn Belly Fat Quickly!"
The whole hype of brown fat centers around the idea that adult humans have stores of a special kind of adipose tissue known as "brown fat" that can be instrumental in helping them lose weight. In fact, there is a whole cottage industry beginning to form around ways to "trigger" or "grow" brown fat in order to quickly and effortlessly melt away existing stores of your body's "bad fat."
Let's take a look at a few facts.
To begin with, the whole brown fat research findings are not really that new. It was well-documented two years ago that adult humans do indeed retain trace amounts of brown adipose tissue (otherwise known as "baby fat"):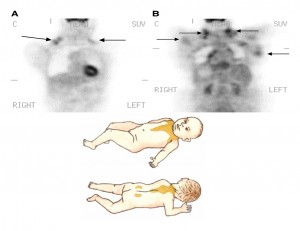 (click to enlarge)
As you can see, these brown fat deposits are minimal. And while there is some evidence that this type of fat is stimulated by exposure to colder temperatures, there is no solid evidence to date that brown fat activation alone can significantly alter one's metabolism.
So bottom line, if you're looking to jack up your metabolism and burn your existing fat stores, a much better approach would be to engage in Power Law training and primal eating.
Alternatively, you could always wait for Big Pharma to come up with a drug designed to stimulate the tiny amounts of brown fat in your body. While this may take a few of years (and might include a number of nasty side effects), it would be easier than eating well and being active in the elements as Nature intended.