Adopt-a-Beach update
As part of an effort to keep Chicago's beaches and swimming areas clean, I will be scheduling intermittent beach visits to conduct tests on the water and to remove trash from one of our coveted "swimming holes," Ohio Street Beach.
Informally known as the "triathlete's beach," Ohio Street Beach is a small sliver of sand just north of Navy Pier. During the warmer months of the summer, the Chicago Park District supplies buoys and swim lane markers that run parallel to the concrete embankment. It is the primary spot in Chicago for open water swimming, and most of the local endurance sports groups plan their group training sessions at this beach.
Unfortunately, however, the park district allows recreational boats to congregate off of the beach during the summer in an area dubbed the "Playpen":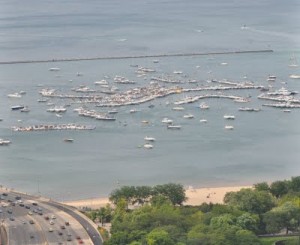 The problem with the "Playpen" is that many of the revelers on the boats use the lake as an impromptu garbage can. In fact, it is pretty much assured that after any big holiday weekend, swimmers will have to navigate through a swirling mess of non-biodegradable items that were carelessly tossed into the water by these irresponsible individuals.
Through the "Adopt-a-Beach" program run by the Alliance for the Great Lakes, I plan to coordinate these efforts with some of the local athletic organizations as well, since we all have a vested interest in keeping the water safe and clean. I will provide more details in future posts, so keep reading!