Triathlons can pose deadly heart risks
Dave sent me a link to a very compelling article on how triathletes are much more prone to sudden death incidents than marathoners.
Practically all of these incidents occur during the swim part of an event. The article states that the primary culprit is not being properly acclimated to an open water environment. It also cites the anxiety of competition as well as the presence of "hundreds of people thrashing around" as being factors that contribute towards excess stress on the athletes' hearts.
I agree with all these points. Most triathletes training for the Chicago Triathlon only swim in the lake a handful of times before the event. In fact, many do all of their training exclusively in an indoor swimming pool only to find out on race day that:
– The lake is not 80F
– It's not enjoyable having a horde of goonish strangers flailing about on all sides of you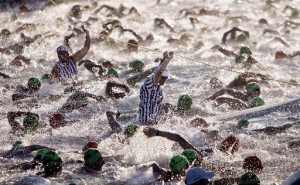 Remember, swimming is supposed to be a fun low impact workout – not a water equivalent of the "running of the bulls."