Amanda, Carol, and I showed up at L1 around 6:15am. I took the lake temperature with a brand new thermometer and was a bit taken aback when it came in at 67F. Given the overcast skies and air temperatures of 60F, I felt the thermometer must have been defective. But Amanda's infamous duck thermometer gave the same reading, so I could have left the wetsuit at home!
This was easily one of the best swims of the year. The lake was crystal clear, and the sunrise view at water level was simply breathtaking. There was an insidious current heading into Oak Street Beach that made it somewhat more of a workout on the return. But it was just the right level of challenge after the half mile warm up.
The Ochoas showed up along with Dave, his sister, and his niece Jelly. Tomorrow is supposed to be even better, and we're all planning on being out there again. So come on out and join the pool party!
Sunrise over the water crib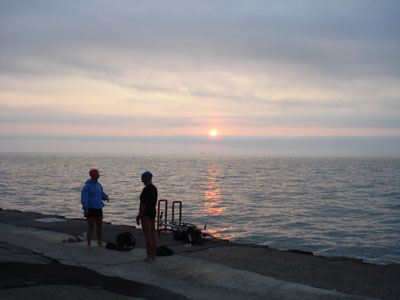 Today's video: