Sunrise came at 5:25am, and Chris and I were there early to snap a few shots. The official water temperature came in at 55F with some mild waves keeping things interesting.
Dave, Carol, and new Lake Monster Amanda showed up at Ladder #1. Amanda, who is preparing for a gigantic Hudson River swim, opted to go sans wetsuit. I was still smarting from a pretty ferocious afterdrop after my swim on Thursday, so I stuck with the wetsuit this time.
All four of us completed the out-and-back to Oak Street Beach, and we ventured more away from the wall and into the open water this time. The water conditions were slightly wavy but crystal clear. I'm excited about summer, but I have to say that springtime swims are by far the best!
I'm planning on being out Monday at around 6:30am, but Dave and Chris should be in the drink tomorrow morning. If you come out on Sunday, be sure to wish Chris a happy birthday!
Pre-swim huddle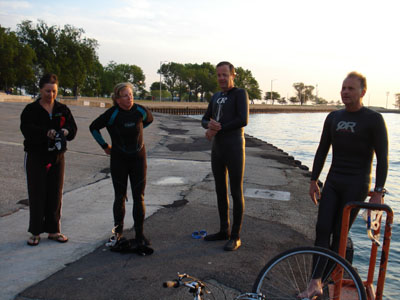 Amanda, Lake Monster #26 (Congrats!)