Swim Report – May 16, 2009 – Looming Storms
Carol, Chris, Dave, and I all met at L1 really early to get in a quick mile. We stopped at Oak Street Beach for a few minutes and regrouped before heading back. The water was a crisp 52F and completely calm. The sky was overcast with a slight misty drizzle that moved in after we had finished swimming.
Dave and Chris did a bit more swimming around L1 sans wetsuit. I gave it a shot as well – but only for about 30 seconds. Overall, a real fun time out at the swim site!
Carol and Chris post swim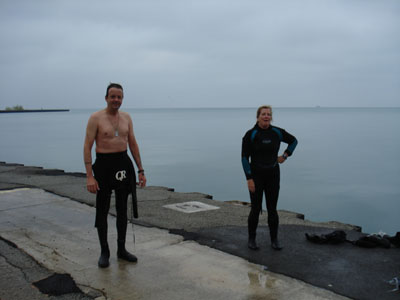 Dave and Chris