After weeks of freezing temperatures, Chicago was blessed with a warm front that moved in on Wednesday. Not only did this break apart the iced-over swim area, but it also gave me the opportunity to bike out to Ladder #1.
Despite forecasts of heavy rain and occasional thunderstorms, the area around Ladder #1 was dry and relatively balmy at 41F. The lake was calm and mostly clear with a few random ice floes scattered about the swim area. Chris had reconned the area the day before, and we were both quite pleased with how quickly the ice had broken up since Wednesday.
I stayed close to the wall and managed to swim almost to Ladder #13 until I ran into a barricade of some large and very intransigent ice floes. I worked my way back to Ladder #1, occasionally brushing aside a curious ice floe that had wandered into my path. Overall, it was a solid 3/4 mile swim in almost ideal conditions for this time of year.
UPDATE – As I write this, I can hear the rain falling outside along with some SERIOUS thunder – so we sure dodged that mess!
Braving the icy waters
The author in a non-serious mood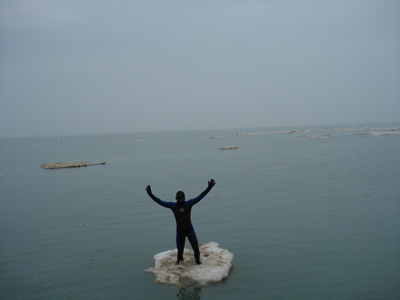 Chris chilling out (literally and figuratively)