For a second, I thought it was June…
At 6:30am, it was already light out and the mercury read 47F (and rising). I made an executive decision to go out to Ladder #1 on my bike. The last time I attempted this was early November, and the ride back was so horrifically freezing that I vowed never to even attempt it until spring. But Mother Nature gave us a great one this morning, and it sure felt wonderful to be back in "summer mode" – albeit temporarily.
The swim area was a mixed bag. The water itself was calm, free of ice, and deceptively summer-like given the backdrop of clear skies and a magnificent sunrise. The area surrounding Ladder #1, though, was somewhat of a mess. The previous day had ushered in some pretty fierce waves that had kicked up a lot of silt and deposited it all over the still melting ice. So it was quite a challenge navigating my bike out to the edge of the lake. In fact, it was a damn difficult ride out on the bike path in general!
Cutting to the chase, the swim was fantastic – easily the best for me since the halcyon days of early October. The water was still a brisk 34F, but it was crystal clear and ice free for most of the swim. I swam close to the wall and got to see some pretty nifty mini-waterfalls caused by the melting ice formations. On the way back, I was treated to a water-level view of an incredible sunrise during each breath. These are two great examples of the types of experiences that you will never have unless you actually physically get in the water and view the world from this perspective.
I swam within 20 meters of Oak Street Beach and promptly ran into (literally and figuratively) an ice barricade that extended all the way to the shore. I viewed this as a sign from above that it was time to turn around, and I promptly quickened my swim pace to ward off the encroaching numbness in my fingers.
Dave, Amber, and the Ochoas were out that morning, and apart from the sandy ice/snow on the ground it was essentially a late spring morning. Given such a glorious day, the lakefront runners were also out in force. As always, we got some peculiar looks from the high-impact cardio crowd. But I can't imagine we looked any less comical than the fair-weather throngs of runners outfitted with knee braces and bandolier-like fuel belts!
'Nuff said. Get outside today…
Fully glory sunrise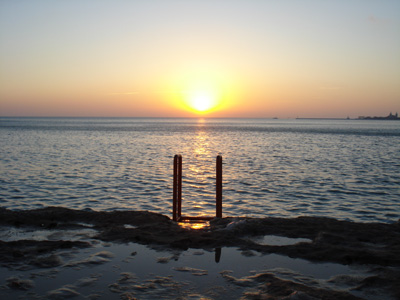 Pre-swim self portrait