It was 68F at 5:30am, so the ride out to L1 was reminiscent of a July morning. For the first time since early November, I was able to swim in my lighter Ironman wetsuit without feeling cold. I also ditched the booties in favor of just wearing the foot covers.
The water was a fiery 50F and a bit choppy given a gusty wind from the southeast. This made things a bit more of a challenge since I had to swim into a current on the way to the beach. But the return leg was, shall we say, a breeze.
What's most exciting is that the L1 gang is starting to come out of the woodwork again. Chris made it out there, and I ran into Julie and Danny as well. Plus three of the Ochoa brothers stopped by during one of their training runs, with Ezequiel taking the plunge sans wetsuit. Summer is just around the corner, everyone. And once again, if you slept in, you missed out!
Sunrise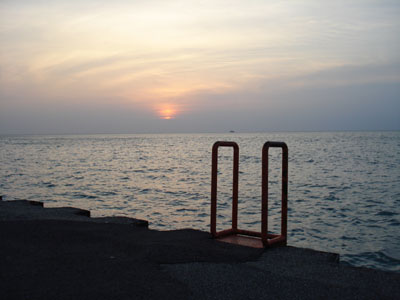 The Tea is back