Here's Bob's swim report on the Indiana Dunes National Lakeshore – one of only four national lakeshores in the U.S.
——————————-
After the fun time at Big Shoulders Saturday, I thought why not try a swim in Indiana? I had a day off work so I went to the Dunes National Lakeshore at Beverly Shores, about 10 miles east of Gary (the National Lakeshore is to be confused with the State Park which does not allow swimming after Labor Day).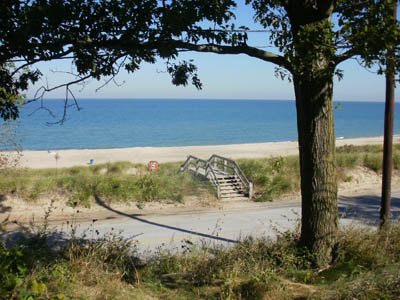 The sky was clear, the water temp was very comfortable, and the waves were not too big. Anyone driving out here for a swim can park their car along the Lakeshore Drive at any of several parking areas. And did I mention it's all free?
I swam parallel to the beach for about a mile and then turned and came back. For most of the swim the water was deep enough, but in a couple of places I swam over a sand bar and could touch the bottom as I stroked.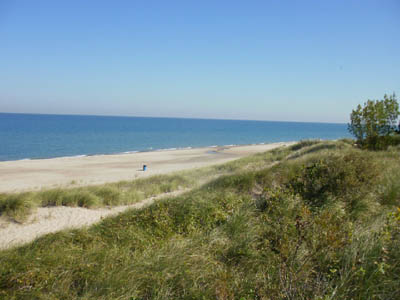 A couple of interesting points: A short distance from where I parked, the National Park Service is renovating four homes from the 1932 Chicago World's Fair. These homes were moved from the site of the fair to the lake shore in Indiana by a businessman as an advertisement for his development. I don't know how his business fared, as it was the Great Depression.
Another point about the National Lakeshore, Illinois Senator Paul Douglas along with people from Northwest Indiana were instrumental in saving the lakeshore from Gary to Michigan City from private development and industry except for the several miles that is the steel mill at Portage. I was an environmental victory from the 60's we can all enjoy.