Here's a neat trick that we learned last year. Dave got a tip at a dive shop about how some divers use baby shampoo to keep their masks from fogging up. So we did some experimenting, and here's my solution.
First, all you need are 1) baby shampoo, 2) tap water, and 3) a mini spray bottle that you can get at most drug stores: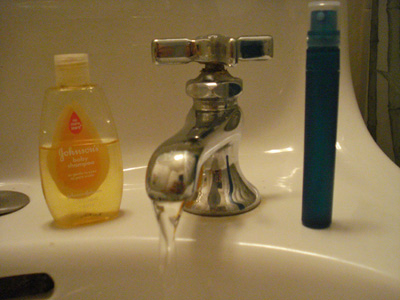 What I do first is remove the spray nozzle unit and dip the plastic stem into the baby shampoo so it gets a very light coating: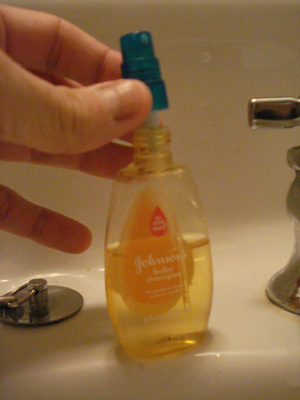 I then fill the spray bottle about 7/8 full of tap water, leaving a bit of room at the top: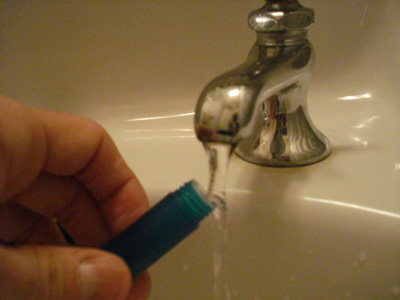 Finally, I place the shampoo-coated stem into the water-filled bottle and screw on the cap: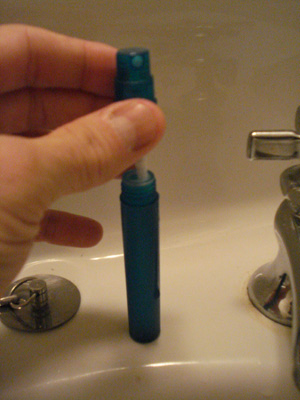 Whenever I need an instant defogging solution, all I have to do is shake up the bottle and apply a few sprays to each lens: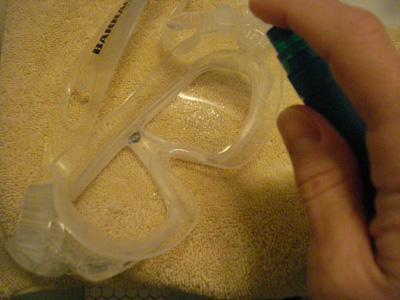 I keep the mixture dilute enough so I don't have to rinse out my goggles or mask before putting them on. But feel free to do so if you just want a very light coating of the mixture.
The great thing about using baby shampoo is that it works unbelievably well as a defogger. Also, it's specifically designed not to irritate your eyes (i.e. "no more tears').
So give it a shot the next time you suit up. You'll be pleasantly surprised at how much more effective it is than the much pricier defoggers at the sports stores. And the nice aroma also makes for a much more blissful swim experience!