About OWC
______________________________________________________________
First visit to Open Water Chicago? Be sure to check out our FAQ page to get all the details on what we are all about and what you need to do to get involved!
______________________________________________________________
IMPORTANT – PLEASE READ THIS FIRST!
** Open water swimming in Lake Michigan is an inherently risky activity **
Swimming in Lake Michigan can be dangerous, exposing participants to many risks and hazards, some of which are inherent in the very nature of the sport itself, others which result from human error and negligence on the part of the persons involved.
In order to participate in any of our swim meetups you will need to complete a swim waiver to verify that you understand and agree to the following conditions:
1) You are a legal adult (18 years of age or older). OWC is an activity limited to adults only – no minors are allowed in the water or around the swim site during our meetups.
2) You fully recognize and accept the risks and potential dangers to which you may be exposed by engaging in this type of activity. These include – but are not limited to – drowning, hypothermia, serious personal injury, or even damage or loss to personal property.
3) You fully understand and take on yourself all of these risks and accept complete responsibility for any outcomes.
4) You have adequately trained and prepared yourself for each swim and are able to effectively manage the dynamic and uncertain conditions inherent in outdoor swimming.
Bottom line – please know your own limits, have a healthy respect for the forces of nature, and make your swim a safe and enjoyable experience for you and for everyone else.
______________________________________________________________
Open Water Chicago
Open Water Chicago™  is a physical and virtual community of outdoor swimming, fitness, and endurance sports enthusiasts.  Founded in 2007 by Steve Hernan, our mission is to provide you with the best information and opportunities you need to optimize your fitness and to fully experience the joy and adventure of being in the elements.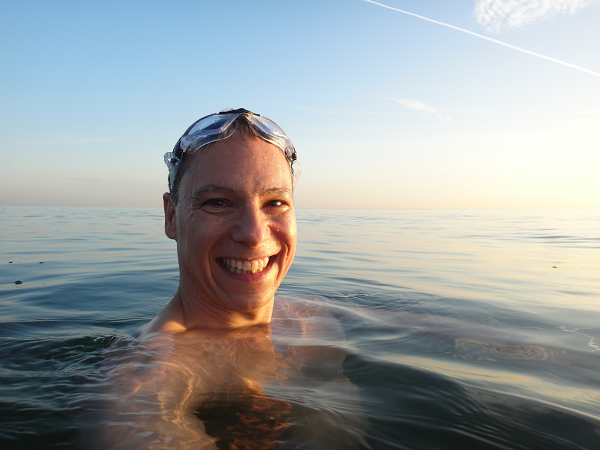 Ladder 1
Ladder 1 (also referred to as L1) is the bright orange safety ladder where we typically congregate to swim. It's located right off of the Chess Pavilion south of the North Avenue Beach boathouse.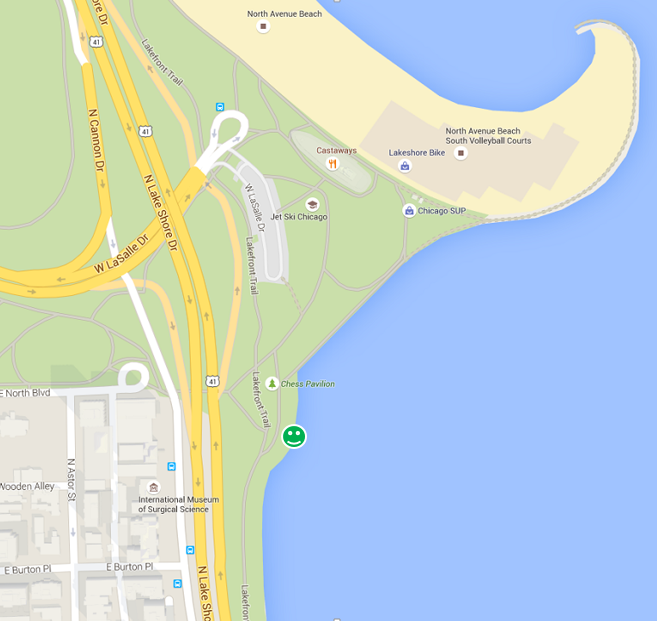 Click here for more information on Ladder 1 – including when we have our swim meetups, how to get there, and where to park if you're coming by car.
The Lake Monsters
So you want be part of the coolest swim group on the planet?
Here in Chicago, we are known as the "Lake Monsters." If you want to make it official and get your very own Lake Monster number, just come on out to any of our early morning meetups and ask me (Steve) after you finish your swim. I can also get your picture by L1 so you have a souvenir shot. After that, you can begin boasting loudly to your friends that you are now part of the "cult of cool!"
But remember – being a Lake Monster carries some pretty hefty responsibilities. So here are the rules you must follow:
1) Bring a good attitude and a friendly, respectful demeanor
We view every meetup as ultimately a celebration of Lake Michigan. It was around long before any of us, and it's there for all of us to share, preserve, and enjoy – regardless of skill level. So if you can't relax and enjoy yourself when you work out, go jump in another lake!
2) Always play it safe in the water
Lake Michigan is a magnificent natural wonder, but it's actually an inland sea and can therefore be quite unpredictable. At Open Water Chicago, we constantly monitor the lake conditions and practice sound risk management whenever we voluntarily enter into this environment.