I got out to L1 a bit early on Saturday morning as I was very eager to find out what the water temperature was at our swim site. It had been stubbornly hovering in the 54F – 55F range up in Evanston, but I still held out hope that perhaps L1 might have escaped the drastic temperature inversion.
Fat chance, as it turned out!
The first reading (surface) came in at 56.4F. However, by the time I completed the swim, I got an average reading of 55.5F. Bottom line, this was going to be a cold weekend for lake swimming…
Despite my post on Thursday alerting everyone about the sudden temperature drop, we still had an incredible turnout at 5:45am. Granted, not everyone got in the water – which I completely understand. But it was very gratifying to me that people were still willing to come out to L1 given the remote chance that the lake had warmed up since Thursday!
After a bit of hesitation, a number of intrepid swimmers suited up and began to enter the lake.
As expected, the initial immersion was quite bracing. I opted to go with just my jammers, swim cap, and neoprene cap this time, and I had taken a cold shower about an hour earlier that helped take the edge off of the cold water. But Lake Michigan still had a pretty sharp bite!
Fortunately, the lake was almost perfectly flat, and it was a clear day with no wind. So when the sun finally peeked out on the eastern horizon, the intense sunshine was a welcome neutralizer to the cold lake.
Because the lake was so calm at that time of the morning, it was a very easy swim to the beach and back once you got over the initial cold shock. Plus, the scenery – both above and below the surface of the water – was simply amazing.
Given the clear skies, we expected a memorable sunrise – and we sure got one! But the real show was the clarity of the lake. The inversion from earlier in the week brought in the cleanest, clearest water I have seen all year. So once you got over the initial discomfort and got into a steady swim rhythm, you got to experience a stunning aquamarine landscape that was like being in the middle of a dream. Truly fantastic stuff!
When I finally got back to L1, the sun was out in force, and this really helped lessen my afterdrop. I was still shivering a bit when it was time to start the swim clinic, but I wouldn't have traded this morning's experience for the world.
Pre-dawn colors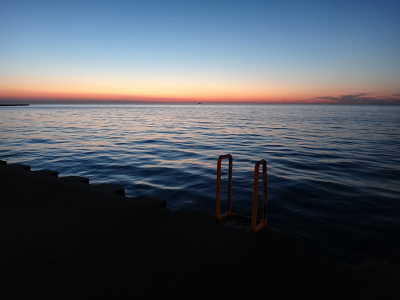 Swarm of Lake Monsters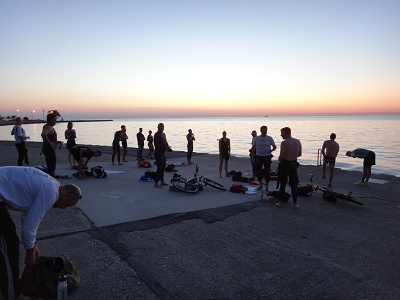 Cold plunge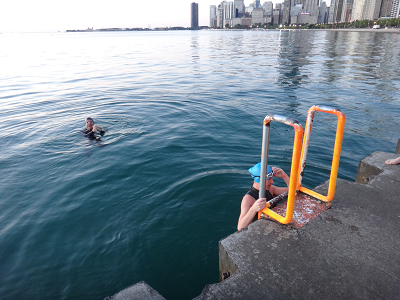 Looking back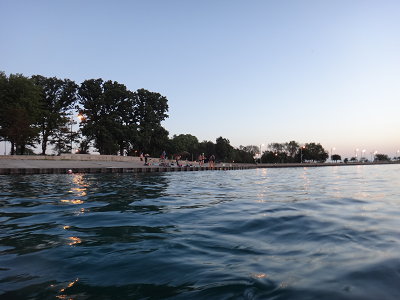 Sunrise shots in-swim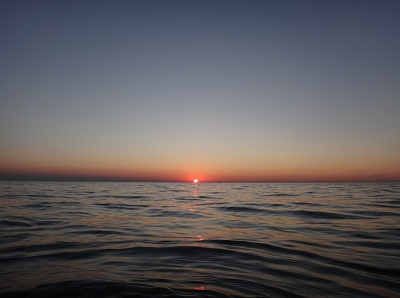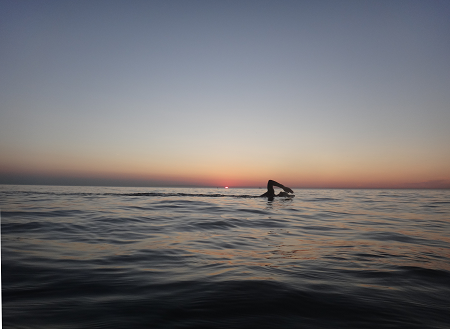 The Oak Street Beach crew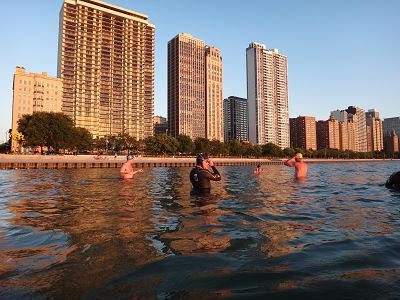 Steve, Lake Monster 378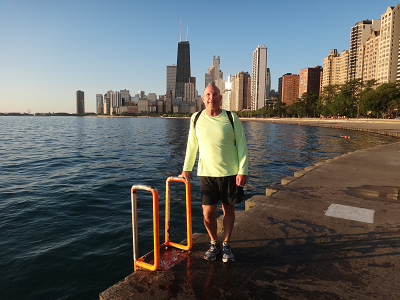 Genevieve, Lake Monster 379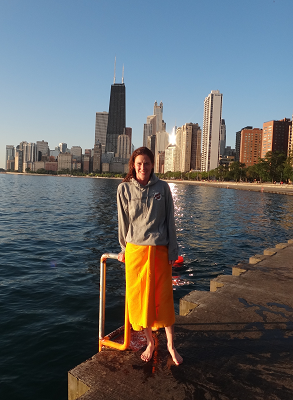 Tim, Lake Monster 380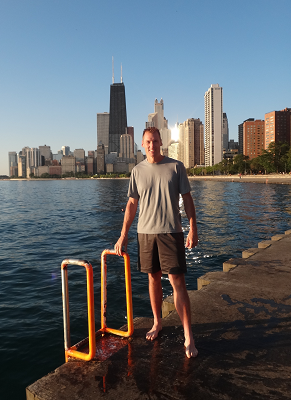 In the aquarium!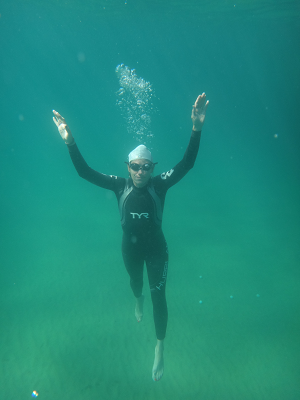 The scene at 6:00am